So What's a WBE?
Given that there is more and more talk about WBEs these days and that that trend is likely to continue, you might want to make sure you know and understand a little bit about WBEs…..if you are doing or planning to do business with a local, county, state or other governmental entity.   WBE Certification stands for Woman Business Enterprise and denotes that a woman (or women) has majority ownership and control of a business entity. The NWBOC (National Women Business Owners Corporation)  WBE Certification Program is not an endorsement of applicant's goods, services, pricing, or profitability.  But it does signify two, very important ideas:
 First: Most local and national government purchasing agencies track and/or have programs for doing business with women business owners. Having WBE Certification is the only way the purchasing agents have confidence that a business representing itself as woman-owned is, in fact, woman-owned and controlled.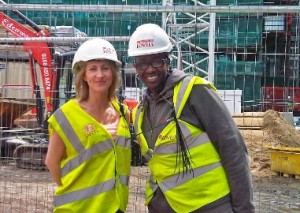 Second: Many publicly-held corporations, as well as larger private corporations, also track and have programs for doing business with women-owned vendor companies. They, too, rely on WBE Certification.
Currently, the 5% federal goal was established in 2000 with the Women's Equity in Contracting Act that gave the contracting office the ability to restrict competition for women-owned firms that have WBE Certification — up to 5% of all contracts. The intent of this program is to encourage procurement officers to utilize women-owned firms at a higher level in both the number of firms awarded contracts and the dollar amounts awarded to them.  (NWBOC 2015)
DLB Industries LLC, a certified HUB with WBE, DBE, MBE, SCTRCA and many other certifications is very proud to be have been involved with such designations for over 10 years and understands the need based reasons that have propelled such certifications into the foreground of "government/municipal" projects.   Diana Lerma Bounds Austin Texas, the founder and 100% owner of DLB Industries LLC  is also very much aware that DBE /WBE companies and vendors are generally needed to help larger groups or companies fulfil their set-aside needs and, as such, strives to perform the tasks needed in the most efficient, legal, ethical and economical way possible.  "We want to get it done, document it and move on in the most hassle free manner possible…..our best days are the days our client don't need to communicate with us".
 Diana Lerma Bounds  Austin Texas