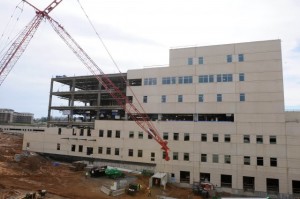 Austin Texas has lots of DBE and WBE projects currently under construction and more on the way.  San Antonio has even more.  As federal money filters into the state and state money filters into various counties and projects, more and more complicated procedures are evolving for the mandated use of WBE, DBE and other "HUB" type businesses.  The population of the State of Texas is growing and growing rapidly.  Infrastructure additions and updates are falling behind.  Texas will be building hospitals, libraries, schools, university and community college projects and roads and bridges, at a much faster than average pace for the next 20 + years. Most if not all these projects will have a component of their overall cost dedicated to Historically Underutilized Businesses.  These "HUB" businesses will need various certifications including DBE status, WBE status and the list goes on, to fill the need that is produced by the many DBE set-aside requirements.  These certifications, designated by various agencies and services, allow General Contractors to meet their set aside needs in order to qualify to bid for projects that involve public sector funding.  Sometimes this funding is complex and the tracking of various set aside qualifications and requirements can be even more tenuous.
Austin DBE vendors as well as Austin WBE vendors are a critical part of the public project construction process and more, quality vendors are needed every day.  Being certified by by Tex Dot or SCTRCA as an Austin WBE or Austin DBE is the first step that is critical and for that matter, mandatory if you want to be included in the set asides for large highway and public works contractors.
Given the population growth forecasts for the greater Austin area, not to mention San Antonio, it is easy to understand why the need for quality, reliable and honest WBE and DBE vendors has risen so sharply.
DLB Industries LLC, is one such Austin DBE and Austin WBE, certified by Tex Dot that has enjoyed a fine reputation as a quality vendor to many General Contractors and Sub Contractors for over 13 years.  Centrally located near the UT campus, DLB staff can be anywhere in Central Texas in a matter of minutes to inspect a job site, monitor the delivery of materials or assess DBE or WBE involvement and costs.
DLB